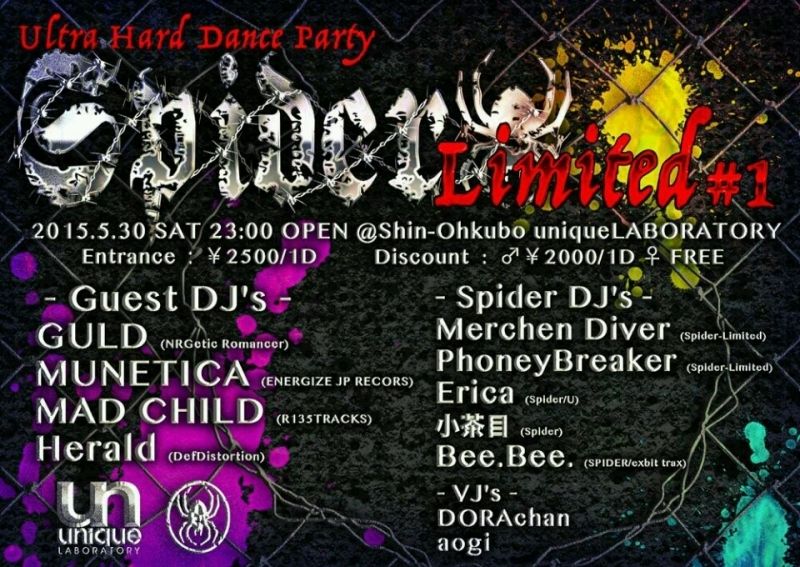 Apologies for the patchy posts at the moment – there's plenty going on behind the scenes though, and the big plans for TYFTH are still on track. They were even (partly) revealed to a select few at CODEX a couple of weeks ago, so stay tuned for more info asap. There'll also be a write-up on the last event before too long…
In the meantime, an interesting edition of the Spider event is happening in little over a week, with headline sets from Guld and Munetica. It's been way too long since I've been able to enjoy a really good club set away from CODEX, so I'll definitely be making the short stroll from home to attend this one.
5/30(Sat)
Ultra Hard Dance Party
Spider-Limited-#1
Shin Okubo@unique-laboratory
Start→23:00~
-Discount-
♂¥2000/1D
♀¥Free
-Music-
Nu-NRG/Hard-NRG/Hard Core/Hard House/Hard Techno/Hard Electro/Hard Dance/Tech Dance/Hard Trance…etc.
-Guest DJ's-
GULD (NRGetic Romancer)
MUNETICA (ENERGIZE JP RECORS)
MAD CHILD (R135TRACKS)
Herald (DefDistortion)
Posted in Events, Japanese | 1 Comment »