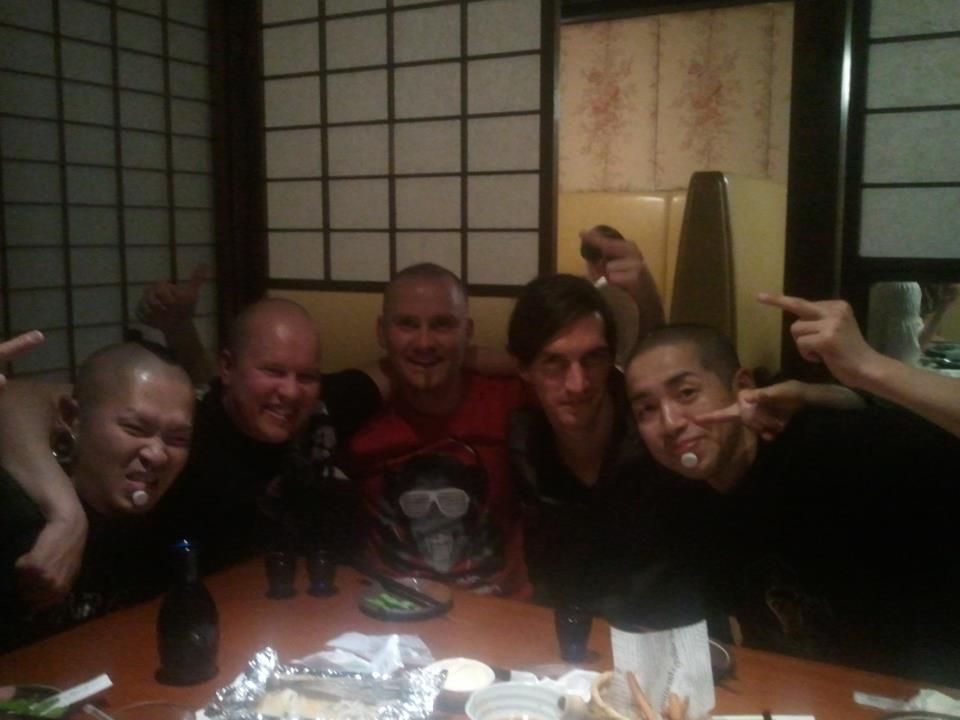 (Guld, Petteri Carbon Based, Laz Re-form, Your Correspondent, COGI)
What better way to promote yourself before a big event than by not updating your own site for a month and a half?
How I wish that it's an exaggeration, but I've been so ridiculously busy since April that the choice has been between food, sleep and Munted prep, with absolutely no time for anything else. Ah, I tell a lie - my two evenings off were very pleasant, spent first with Byproduct and then with Petteri Carbon Based and one half of Re-form while they visited Japan/Tokyo. It was brilliant to see everyone a year after that trip to Finland, but since then it's been hardcore event prep all the way. Still a fair amount to do, but I'm making progress and just about on schedule considering 6-day workweeks and endless commutes.
Needless to say, there won't be too many posts until early next month, but there will of course be Munted info as and when, as well a couple of other things I've been desperate to mention for a couple of weeks. Sorry about the disappearance, and hope you'll bear with me while I get through the rest of May. What I'd give for an army of little Horsers (Foals?) to update the site in my absence.
Oh, continuing the 'promote yourself by doing nothing' theme, it seems that people have discovered the PlasmaDancer Facebook page I semi-set up last year and then promptly forgot about. Four or five intrepid freeform warriors actually found it months ago, and so I was working on a little 30 minute mix as a thank you to them - then Munted happened and I ended up using parts of the Thank You set for my segment on Freeformaniacs (coming a week tomorrow, if I'm not mistaken).
Anyway, I'm massively thankful to those early adopters, as well as the freeform folk who have been 'liking' it over the past couple of days. This place will always take priority, but I've just finished the basic setting up and will be able to add some bits and pieces there if/when I have the chance. The more Horsers the better of course, so feel free to check out the complete lack of content via this link.
Back to mixing for now - I'll be sure to make some time for the next post asap!
Posted in UK, Finnish, Events, Japanese | 2 Comments »