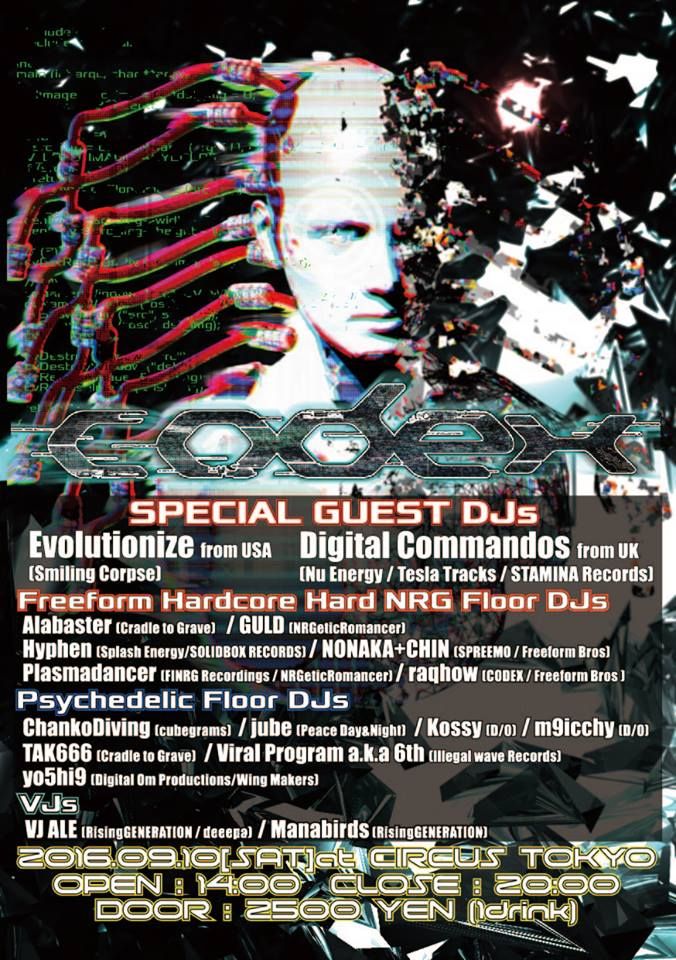 Long overdue, like a lot of posts these days, is a heads up re. CODEX7. Arriving in September, this looks to be another quality event of freeform and NRG, but this time with an additional psychedelic floor with ChankoDiving headlining.
On the freeform side we have some great guest bookings in the shape of Evolutionize and Nu-Energy veterans Digital Commandos. I have high hopes for Evolutionize's set, and finding myself on the lineup once again I hope to contribute a bit of darkness, too. It looks as though GULD has become a semi-regular CODEX member, and his set will raise the level that bit higher, as always.
This time I'm slightly sad to see that the venue won't be R-Lounge, but Circus Tokyo is the recently refitted incarnation of amate-raxi and it'll be interesting to see what has changed. I have heard talk that there will be a selection of CDs available at the event (maybe even including you-know-what), so stay tuned for more info on that as well as timetables and the like.
Main guest
Evolutionize from USA (Smiling Corpse)
https://soundcloud.com/dj-revenge-1
Digital Commandos from UK
https://soundcloud.com/digitalcommandos
Main floor DJ
Alabaster (Cradle to Grave)
GULD (NRGeticRomancer)
Hyphen (Splash Energy/SOLIDBOX RECORDS)
NONAKA+CHIN (SPREEMO / Freeform Bros)
PlasmaDancer (TYFTH/FINRG Recordings / NRGeticRomancer)
raqhow (CODEX / Freeform Bros.)
Psychedelic Floor DJ
ChankoDiving (cubegrams)
jube (Peace Day&Night)
kossy(D/0)
m9icchy(D/0)
TAK666 (Cradle to Grave)
Viral Program a.k.a 6th (Illigal wave Records)
yo5hi9 (Digital Om Productions/Wing Makers)
VJ
VJ ALE (RisingGENERATION / deeepa)
Manabirds (RisingGENERATION)
Photo
Mizuho