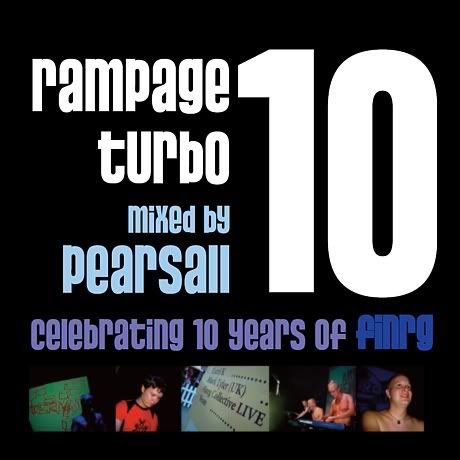 Right then, here we go - I've got a lot of catching up to do, so as well as bits and pieces from my trip I'll be posting up some of the other great stuff that's been going on for the past month.
First up is Pearsall's incredible tribute to FINRG, timed to coincide with the 10 year anniversary. Being a vinyl-only man, Pearsall has done a wonderful job of mixing up the old anthems with some less well-known classics, and I'd go as far as to say the opening sequence of 6 or 7 tunes is one of the best I've ever heard in a freeform mix. I'm often banging on to anyone that'll listen that we DJs in the freeform scene should really step up a level to match some of the stuff going on in other genres, but here's a set that could easily go toe-to-toe with anything I've heard for a long while.
It would impossible to maintain the level of that first section (especially for 2 hours), but the rest of the set is still excellent, with some lovely transitions through the sounds of Nomic, Pain on Creation anf Re-form, as well as another surge at the end with Superstition and Man Eaten. A worthy successor to E-NRG's seminal Welcome to FINRG mix, then, and a must-listen if you haven't already.
Here's the tracklist, but check Pearsall's original post for the download link and all sorts of reminiscences from his own trip to Finland.
01. Carbon Based – Kraateri (Finrg)
02. The Mexican – The Land Of The Pharaohs (Carbon Based Remix) (Electrolysis)
03. Carbon Based – The Choice (Electrolysis)
04. Carbon Based & Nemes – Heaven N Hell (Electrolysis)
05. Proteus & Carbon Based – Heavy Fusion (Finrg)
06. DJ Proteus – Metal (Teflon Bullet)
07. Paocala – Starfall (Electronic)
08. Carbon Based & E-NRG – Illuminate (Electrolysis)
09. Carbon Based, E-NRG & Nemes – Prologue (Electrolysis)
10. DJ Rx – Hellfire (Finrg Hard)
11. Re-Form – Extremely Dangerous (RFU)
12. Nemes & Blender – Without Fear (Camel)
13. Alek Szahala – Dryad Machine (Finrg Hard)
14. Alek Szahala – Unicorn Grove (Electroplates)
15. DJ Rx – Killer Instinct (Finrg Hard)
16. Carbon Based – Underworld Species (Electroplates)
17. Carbon Based – Anger Ball (Nu Energy)
18. Pain On Creation – Mortality (Electronic)
19. Pain On Creation – Lush (Carbon Based Remix) (Finrg Hard)
20. DJ Proteus – Venla (Teflon Bullet)
21. Alek Szahala – Lumi (Nu Energy)
22. Re-Form – Schizophrenic (Electroplates)
23. Re-Form – Blackmailer (Hard NRG Mix) (Electronic)
24. Carbon Based – Fatal Flashback (Electronic)
25. Nomic & Pain On Creation – Make Me Real (Camel)
26. Alek Szahala – Invitation (Finrg Hard)
27. Nomic – You Have A Dream (Nu Energy)
28. Carbon Based – Ultimate Protection (Electronic)
29. DOK – Mental Ward (Carbon Based Remix) (Electroplates)
30. Carbon Based – Cyclone (Electronic)
31. Alek Szahala – Superstition (Electronic)
32. Alek Szahala – Man Eaten (Finrg Hard)