It's finally time for a look back at 10 Years of FINRG and my escapades in Finland and the UK – part of the reason for this write-up's massive delay is the difficulty of doing justice to what was an utterly stupendous trip from start to finish. This might well be a long one (and in fact is version 3 of the post), but feel free to skip through to the event section where you'll find my tracklist and a few other bits and pieces of behind the scenes-related stuff.
Important edit: Apologies to Raver71 for not crediting his photo of the Senssi decor. Check here for his awesome album from the night, and click here for the equally great Sessions2 photos, where you'll find me looking especially psychopathic.
Things all started off with a 1st March flight from a very snowy Tokyo to an even snowier Helsinki – my first visit to Europe in almost 6 years. I was met at the airport by none other than Cyrez, who has been one of my closest friends in the scene since our first mail communications over 6 years ago. The following day we met up with Epyx for some quality tourism – Helsinki itself is a lovely city, and away from the centre there was still plenty of snow and some awesome views out to sea. 'Now you understand why our freeform sounds the way it does,' said Cyrez, as we checked out scenes like this: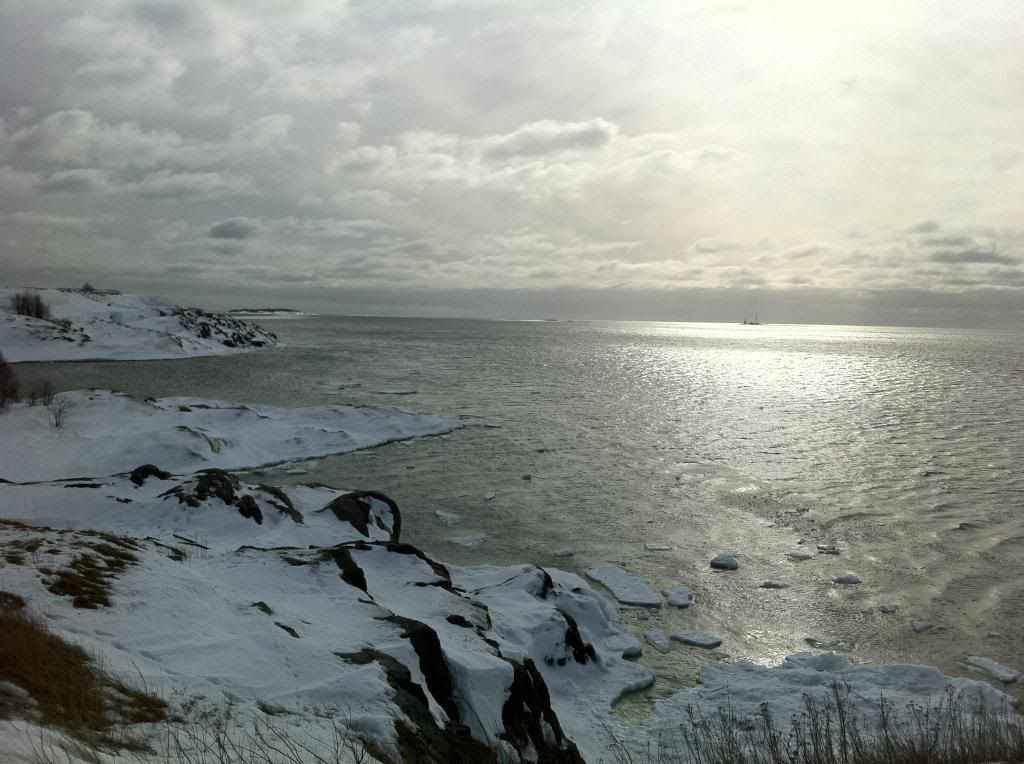 Epyx, meanwhile, was busying himself with other photo ops:
After a quick practice of my set at Cyrez's place, the three of us then headed up to the outskirts of Lahti, meeting Tyranoid and Strongstream for a very Finnish evening at Tyranoid's summer (!) cottage. Anyway, Tyranoid and I have also been in touch for a long time now, and both he and Strongstream proved to be wonderful guys in person. I won't be sharing photos of the madness of the evening, but the highlight was surely hacking out a hole in the ice of the adjacent lake (in the dark), for post-sauna nighttime dipping.
The next morning was of course the day of the event, and Tyranoid and Strongstream were busy with practice runs through their techno Live PA. I was getting slightly twitchy by this stage, so at the first chance I headed to central Lahti with Tyranoid, to be dropped off at Senssi. The final preparations for the event were in full swing, with some last checks being made to the spectacular, Soviet Russia-meets-Death Star decor, and there I finally met Rx, the Carbon Based guys, JNKS, Jayvee, Heathen and BRK. All friends from afar until now, it was awesome (but not that surprising) how well the group got on from the first moment, and any nerves I might have had definitely disappeared for a while. Oh, and Rx's first comment was 'You're Alek Szahala's twin!' – there does seem to be a certain angle from where we look pretty similar, though stand us in a room together and Alek's head-and-a-half height advantage soon puts an end to that.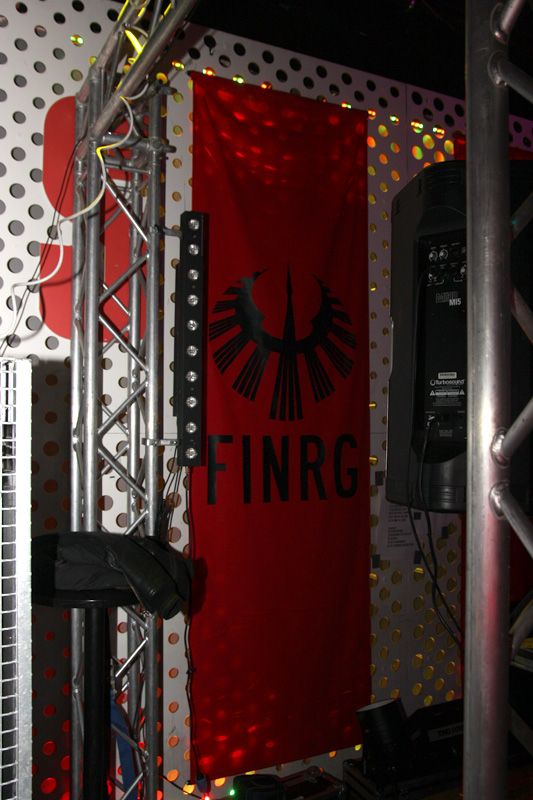 After Senssi, there was time for a brief visit to the FINRG studio, where I met Carbon Based's Teemu at long last. It was thanks to him that I was in Lahti at all, and he was a massive help in the months before my arrival. As we took a break in the studio where Cyclone, Anger Ball and so many other classics had been made, he talked at length about what the future might hold for FINRG. As is usually the case, he was going beyond the call of duty for this event – he's yet another of the great guys that we owe a whole scene to and I was so happy for him that the 10 year anniversary turned out to be the stormer that we were all hoping for.
A pre-event dinner meant that I finally had a chance to meet Proteus and a lot of the other FINRG members, after which it was almost time for sound checks at Senssi. I've got my priorities right though, and instead went back to FINRG studio to (ahem) do my tubes. I decided this time to go properly cyber – no point doing things by half measures for such a big event, after all. I've had a few questions about the various bits and pieces, so here we go: as usual the tubes were made by the utterly awesome [a]narchy (who are now in the US after moving away from Harajuku), the vest-jacket is by Rituals, while the arm tubes and goggles were both Cryoflesh (I think), via Osaka club/cyber store Room-H. The mask was the usual specially-made Koumori mask by Takuya Angel. The verdict from Android Lime (no stranger to cyber himself) was that I looked like a new Mortal Kombat character – given the scrawny Welshman who's lurking underneath all this stuff, that's good enough for me.
Anyone who has visited Lahti's Senssi will remember the bar-meets-club main floor, which had recently undergone a spruce-up. Visually nice and interesting, it's a shame the massive seating and tables couldn't be moved from the higher level, dramatically cutting down the dancing space (as the perpetually-packed lower dancefloor showed). I was in the 'Urban Room', of course, and I can genuinely say that I was very happy to be there – size-wise it was a heck of a lot bigger than harder-music Tokyo venues like amate-raxi, and (just about) comparable to somewhere like the sub-floor in Shibuya's teenybopper trance-haven Atom.
It turned out that there was plenty of time for sound-checking, and as most of the attention was on the main floor, I was pretty much left to myself for 40 minutes or so – I took the chance to get the PA's sound exactly spot-on, testing all the connections I'd decided on for the first half. This might have been the moment where any nerves completely and utterly disappeared, and I was just looking forward to everything getting started.
Once we hit 10pm and the doors opened, well…I'm sure anyone who was there would say it's up there as the best ever freeform event, and from start to finish there was an atmosphere that I'm not sure could have been experienced anywhere else. As the first large-scale FINRG get-together for a long time, there was a lovely happy vibe all around with a simultaneous sense of an era coming to an end. Added to this bitter-sweet feeling were some of the best sets ever, as well as the first real-life meetings with long-time and new friends, making for a night that I'll remember for the rest of my days.
Most of the FINRG crew had disappeared backstage when I emerged from my sound check, but I'd decided beforehand that I wasn't going to miss a moment of what happened on the floor – especially with Alek Szahala up first. At first I wasn't planning to dance much, as there were literally dozens of people I was hoping to meet, but finding myself pretty much alone as Alek started his set with an intro and Wraithverge I was soon jumping around like a lunatic. His set was really well constructed, with a slow intro followed by some mysterious trance tracks (see the video below) and then straight into the freeform. Focusing on more uplifting sounds was probably a nice choice for this one, ending with the freshly-popular Dawnstar.
I was starting to go into oblivious-to-what's-around-me mode by that stage, but luckily I was discovered by Decion, Alchemiist and J-Mx. From that moment the night became an awesome series of meetings with everyone from friends like Nomic, Byproduct and Aryx to artists/DJs I've respected from afar like Syntse and Galrav. Understandably then, the set orders and tracks played became a little sketchy in places, even if I was somehow defying the efforts of Cyrez and not touching a drop of alcohol before my own set. I'm pretty sure that Substanced followed soon afterwards though, as in amongst his usual quality series of dancefloor-friendly freeform he played Flawless Victory – J-Mx apparently wasn't expecting it at all, and his bewildered/ecstatic reaction was a sight to behold.
Another standout set was Heathen and BRK's Hard NRG session, and in keeping with the atmosphere on the night was one of the most powerful and energetic I've seen for some time. When they finally came off the decks they were totally spent, unable to speak and with a tear or two in their eyes – a real lesson in giving your all to the music. By this stage I was bumping into ever more people for the first time, including the UK contingent of Custom Built DJ's Jon Mysterave, the Watchtower crew and Mr Olly Addictive of Smiling Corpse infamy, all of whom were absolutely top guys and happily we've been in touch a lot more since that first meeting in March.
It was getting close to my own 2:30am set by this stage, so off I strolled to the Urban Room for final checks. Embarrassingly I wasn't introduced to some of the DJs beforehand, but massive thanks to the duo who went out of their way to give me room for my gear, to the extent that it probably made their own set quite tricky. I'm probably less grateful to someone else on the night though, who decided that unplugging said gear was a good idea. Luckily though, this set was a Hollywood Moment of the type I've never managed before, and I was so 'in the zone' that nothing could have fazed me. Indeed, it's rare that I can put modesty/self-criticism to one side to say this, but somehow I nailed this one and it was by far my best performance at a club to date. Rather than self-ego-trip too much though, I can quote two of the FINRG crew, who offered that 'It was your best set ever' and 'I can easily say that yours was the best set of the night'. Talk about high praise – I only hope that I can summon the same sort of focus when/if I'm invited to play another big event.
The tracklist for this set was a real nightmare, as initially during preparation all I could think was 'I wish I could play my Munted! Monthly! set again'. To get around this, I decided to stay away from those tunes as much as possible, and go for a properly danceworthy set that was heavy on Japanese tracks – I assumed that if any of the Senssi ravers knew who I was they'd be expecting something along those lines. Thank the heavens then for Le Dos-on, who played his Epatoivo at experience! before I was set to leave for Finland. I decided on the spot that it would be the track to start the set, and so finally had a point to build from. The other essential was to include at least one track each from Nomic and Epyx & Cyrez, as it was frankly mindblowing that they weren't included on the lineup. With those loose restrictions, then, this is what I came up with:
01. Le Dos-on – Intro (Epatoivo)
02. Level 13 – Exaltation
03. Level 13 – Is That All
04. RANK 1 – Airwave (Betwixt & Between remix)
05. Hase – Brionac
07. Epyx & Cyrez – Unohdetut 2011
08. Nomic – Chaos Maker
09. Betwixt & Between – Matter of Fact
10. Substanced – The End of All Things (Aryx remix)
11. Betwixt & Between – Hollow
12. Le Dos-on – Le
13. Betwixt & Between – Genshi Kurage
14. Aryx – Morokai (10 Years of FINRG edit)
15. Betwixt & Between feat. Yukacco – Nothing Compares 2 U
16. RR-ThermalForce – Eternal Cannon
During prep I set aside a whole afternoon for possible mixes from Epatoivo, and eventually decided on Exaltation – not a common tune these days, but undoubtedly a classic, and I hoped that the smooth connection would help to ease people into the high bpm and filters of the rest of the set. After that it went according to Syntse's great video, so let's look at that next:
Some people will be familiar with the Unohdetut – End of All Things section from my Munted! Monthly! set, but this of course is the original version – exactly the same, but a lot smoother here, I reckon. Although for this set I told myself to concentrate on making people dance more than obsessing over in-key mixes, I wanted for at least some of the hour to go for the Holy Grail of seamless(ish), melancholy and danceable. Thankfully that section worked really well, and Aryx mentioned afterwards that it was the first time for him to hear his own tracks played in a club by someone else. I had practiced lining up Hollow at super-quick speed to give me time to dance to TEoAT, and during the breakdown I'll happily admit that I shed a few manly tears as the set/occasion finally caught up with me. When the track dropped I started dancing like a maniac, looked out to the floor, and saw that Nomic had cleared a space for himself near the booth and was also doing a frenzied dance on the spot.
Into the finale then, and I went for Hollow as it's been so long since I've used it (and never in a club), especially after deciding on the Le connection. They're in different keys, but I sneaked Le in just at the end, with the breakdown melody (at 4min 9secs if you have a copy of Le to hand) starting while the final 'I am hollow…and I will live forever' plays. Real melancholy there, I tell you, and (slightly surprisingly, if I'm honest) the crowd went mad at the Le drop, which was a big bonus. Then it was into the gamble of Genshi Kurage, but very soon after that awesome/bizarre slow breakdown I threw in Morokai to add a lot of pace and take us back to the darkness. I don't have words enough to thank Aryx for this one, as he made the massive effort to finish a version of the track in time for 10 Years – in fact, about 3 or 4 days before I was set to leave Tokyo. I'm sure everyone's familiar with the Smiling Corpse release, and this version did as much damage as you'd expect, followed by Nothing Compares 2 U. I still had a few minutes to spare, so after checking with Tyranoid and Strongstream I played Eternal Cannon from the first breakdown – it's alarming how few people seem to be familiar with the original, so I decided on that for a final 3 minutes of madness.
Massive, massive thanks and respect to everyone who came to listen to my set. Due to the main floor timetabling I was up against the FINRG All Stars for at least some of the time, so for people to take the time to come and support me (and enjoy themselves) was fantastic. Special thanks to the one and only Bern, my guest for the night who made the journey from Portugal just for this event. A shame we didn't have more time to chat, but I'll always be grateful. Anyway, here's a newly glued-together compilation of clips taken by Nomic (using my fledgling iMovie abilities – brace yourself for more dodgily amateur compilations in 2013), and just from the people in shot during Eternal Cannon you can see Olly Addictive, Amini, Alchemiist, J-Mx, Epyx and Re-form's Lasse, while Proteus, Alek Szahala and many other artists mentioned later that they were there at some stage. Final huge, heartfelt thanks to Teemu Carbon Based and DJ Rx, who got me over there in the first place and were nothing but professional and superbly organised all the way through.
For the rest of the event I could relax, just in time to take in Pain on Creation's stupendous comeback set, and some encore tracks from Carbon Based – the final play of Cyclone took the breath away, it was yet another of those moments to remember forever. What an event then, and even if I hadn't been playing I would rank it as the best ever. To have the bonus of playing (and miraculously doing a good job) made this something of a dream come true, and a combination of emotions that I've never felt before.
To end this mammoth post (if anyone's still reading), here's a quick rundown of other highlights during my trip:
1. B2B2B2B with Nomic, SuzuS and Nette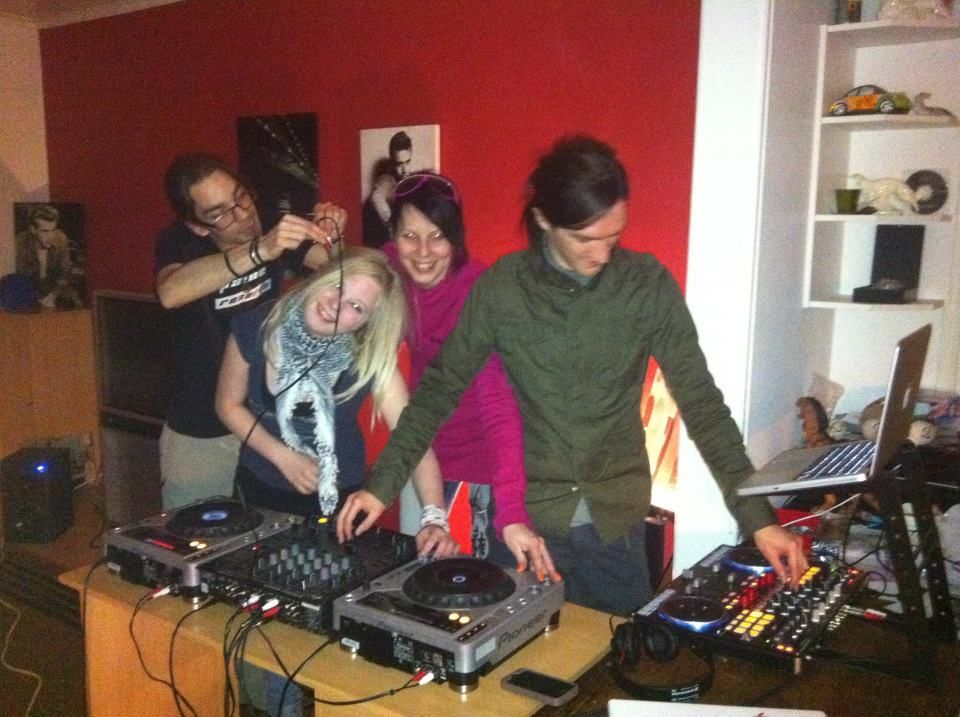 After 10 Years was all finished, Nomic, SuzuS and I went (after a sleep in FINRG studio) on a long, long drive north to their part of the country, where I stayed for a few days. I had a truly wonderful time, and one of the highlights was surely a just-for-fun mixing session with the two of them and DJ Nette. The anti-digital brigade will be disappointed to hear that it all went very smoothly, even if the eccentric genre choices were a deliberate challenge (Finnish pop into dubstep, anyone?). Thankfully I managed to escape from SuzuS' hardstyle with some Hase, and for the rest of the night we went freeform. Once Nette and SuzuS stopped playing, Nomic and I were left to ourselves, each pulling a few 'special move' favourite combinations out of the bag – unsurprisingly, he has some really, really brilliant connections to/from his own tunes. The whole stay was filled with memorable moments (checking out the under construction Suicide Machine, spending whole afternoons swapping melancholy tunes on YouTube etc), and Nomic is a genuinely special guy, it was wonderful to meet him at long last.
2. Goa in Helsinki
Sadly there weren't many interesting events happening in Finland while I was there, but this Goa/psychedelic effort caught my eye. As it happened, Byproduct had very kindly offered to put me up for the night, and so we headed along together. The sets dramatically improved as the night wore on, and leaving the club to wander through a snowy central Helsinki at 3am was another highlight.
3. Tampere
On the way back down to Helsinki I had just enough time for a stop in Tampere, where Decion and Alchemiist were kind enough to give me a quick tour of the city centre. In the evening we paid a visit to Amini, who showed off his new studio and current projects, before we played a few tunes, together with Substanced and Sam One.
Massive thanks to the guys for the welcome at very short notice, but especially to Decion for putting me up for the night – one of the most surreal memories of the trip has to be watching British farming-based soap opera Emmerdale with Decion over morning coffee. Tampere itself was great, and anyone headed to the FINRG & FUTURISTICS event is in for a real treat.
4. Industrial in Glasgow
Over in the UK, I divided my time between Wales, Manchester and finally Glasgow, where I met up with one of my best friends for a few days. We geared up in goth/cyber style for Bedlam, one of Glasgow's few remaining goth/industrial events, where we had a very nice time with the scene's regulars.
5. Welsh stuff
I spent a good couple of weeks in Wales, where one of the highlights was a meeting with none other than BEEZEE! Transport trouble made our time in Cardiff a short one, but it was awesome to meet another Horser and quality chap, who I'll hopefully see again in Finland next year.
One more high point was a visit to Portmeirion, the fabulously unique project of an architect in the early-to-mid 20th century, and the setting for what is indisputably the greatest ever use of television, The Prisoner. Insanely unseasonal weather helped the general feeling of being transported to another world and showed off the best of the town's wonderful design.
The End
Congratulations if you've made it this far – it was impossible to round up the trip in anything like a readable form, but hopefully you can filter out some interesting points here and there. The second of the long posts (not this long, fear not) will be arriving in the next few days, but thanks in the meantime to all the TYFTH crew for a great 2012, and have a Happy New Year!